Alliance of Divine Love
"The ADL"
Photos and Inspiration

Alliance of Divine Love - Chapel #455 Welcomes YOU! About this author
What is The ADL?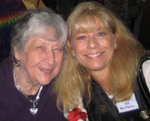 "The ADL" Interspiritual Ministry
ADL mentor, Co-founder, the late Rev. Dr. Barbara Hanshaw (left) and me (Rev. Dr. Nancy Ash) during an ADL conference held in Kansas City, MO. in April, 2009. (Rev. Nancy is the founding managing editor of this unique web-site "Doing a 360")

Enjoy related articles from Rev Nancy

2011 Conference Ordination PHOTOS

Rev. Nancy is Co-host of "Consider This" spiritual talk-radio show

Alliance of Divine Love Conference Photos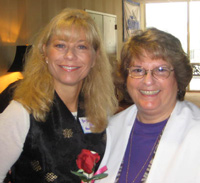 Reverend Dr. Nancy Ash of New Mexico and Rev. Dr. Linda Marie Nelson of Tennessee pause with smiles after a Doctoral Ordination ceremony during the ADL conference in Kansas City, Missouri, 2009. That weekend about fifty ADL ministers also enjoyed the beautiful and inspiring world class art at the Nelson-Atkins Museum during a special luncheon and tour by the esteemed professor and art historian, Rev. Dr. Vern Barnett (below)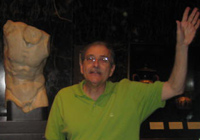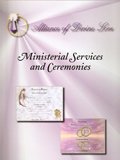 The comprehensive Alliance of Divine Love (ADL) Services & Ceremony book - a really great tool for ministers. Materials like these are always conveniently available at conferences like this one in Kansas City.



Incomparable musical guest, "The Queen" Queen Mother McFarlane closed the show with her inspirational "love in action speaks louder than words... PASS IT ON" (what goes around, comes around... like "Doing a 360")

Reverend Stumbling Deer also gave an inspired performance along with many others at the Friday evening Interfaith musical gathering... at which Alliance of Divine Love (ADL) Ministers were honored as special guests.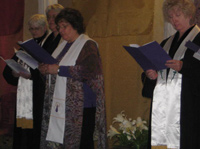 Co-Founder of The Alliance of Divine Love Ministry, The Reverend Dr. Barb Selwa (left photo, center) during an ADL Doctorate of Divinity Degree Ordination ceremony held at the conference in Kansas City.

Alliance of Divine Love Conferences
ADL Conferences are conveniently held two times a year, sometimes on a Caribbean cruise ship, or in the gorgeous red mountains of Sedona, Arizona. Many take place in tropical South Florida or in the Gainesville and Orlando areas of Central Florida. Another special location for gatherings is in the Blue Ridge Mountains of North Carolina at the beautiful Kanuga Retreat (Fall 2010). The ADL Fall 2011 New England "Oneness" Conference was held in lovely Kennebunkport, Maine at a sacred, 66-acre monastery on the ocean.

Kansas City, America's heartland, was a really great place to visit. Did you know it has the largest population of Interfaith Ministries in the United States? Yes, it really is the home of true "Unity."

No matter where we go in ADL... we do have fun! Conferences and retreats are chock-full of cutting-edge lectures and workshops which help ministers to hone their skills helping others. Most importantly, we gather to share our love with each other, and re-calibrate the world to Oneness.


---
"If you feel guided to me... if you resonate to what you feel...
then know it is your Soul desiring to fulfill ITS purpose.
My destiny is to help individuals to discover their true nature in this present moment." -- Rev. Dr. Nancy Ash
---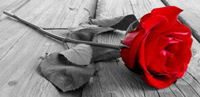 Thanks for visiting today. May all be splendid for you and your entire family. I'm the creator and managing editor of "Doing a 360" which is a life-metaphor phrase coined through me in 2006 with divine inspiration. Browse around this 360 sacred circle for more inspiration and read some articles. Write to me or send a prayer request. Your name will go on the list. I may give you a heart-felt shout-out (first name and country only) on my radio show. Tune in... I trust you have gained insight to The ADL Ministry.

Enjoy my weekly, hour-long radio program, since 2010 on The Art of Living Well Radio Network of blogtalkradio.com We produce a great program for you called, "Consider This..." which is a non-religious, integral, spiritual talk-show to help inspire your journey to Oneness.
Yours in the Greatest Degree of Love,

Best with Blessings, In ONEness,
Rev. Dr. Nancy

FREE online guided meditations

About this ADL Spiritual Coach

FREE Online ~ "Consider This" Spiritual Talk-Radio

More about ADL

FAQs on Ministerial Training

HOME from Alliance of Divine Love