Sacred ~ Awesome Poems

from


Garland of Grace Sitting with the Dying Sun

A beautiful collection: awesome poems "stir your Soul poems"

and

spiritual poems, inspirational poems of the heart from 360

Welcome! Enjoy a few sacred, awesome poems from my latest book, Garland of Grace: Sitting with the Dying Sun (published 2014).

Dear reader,
May poems
In a garland of grace
Bless you whole.
May all benefit
From this auspicious activity.
In Oneness with love
And, gratitude in grace, Nancy About this author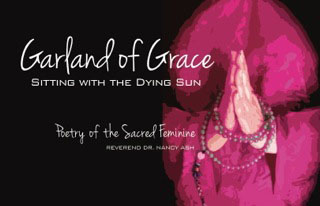 Garland of Grace is a collection of inspiring poetry to feed your Soul. Mindfully arranged as a spiritual journey for women and men, this unique book celebrates re-emerging power of the Sacred Feminine rising in evolutionary spirit. Here is rich sacred poetry and a glossary, lovingly crafted by veteran spiritual teacher and mystic, Rev. Dr. Nancy Ash. 52 heroic poems will nurture consciousness of a genuine balance between the Divine Feminine & Divine Masculine. If you have a woman or man in your life - a mother, father, daughter, son, sister, brother, lover or friend - this book is for you.
Reviews for these Inspirational Poems - Awesome Poems
"...

Garland of Grace: Sitting with the Dying Sun

is a masterpiece of realized spirituality,

perhaps even closing in on the precincts of Sacred Literature."


- The Right Rev. Jack Stafford, PhD, Bishop, The Progressive Episcopal Church



"Nancy Ash's poetry is gorgeous and such a delight to read... Her latest poems,

Garland of Grace

, are like direct sips of divine nectar from the Goddess

…

" 
- Claire Sierra, MA, author of The Magdalene Path--
Awaken the Power of Your Feminine Soul"



... Ah!

Garland of Grace

is a real and beautiful treasure

…

 "   
- Anna-Mari Pieterse, Daughter of Africa, Humanitysteam.org

"The weaving of these melodic words, emerging from the Via Creativa Consciousness,

create a vibrational tapestry that has brought peace, comfort, and great joy to me.

May you find these blessings here, too."  

 - Rev. Linda Marie Nelson, DD, PhD, Abbess, Order of Shekinah Ruha Community



---
Divine Mother at the Gate
I've dreamed you a thousand times
In many forms
I've played with your children
In every game
I've seen you in crowds
Before your time
I've heard your whispers
In the wind
I've tasted your nectar
In a flowing stream
I've felt your power
In the mountain thunderclap
I've dreamed you a thousand times
In many forms
Here with you I dwell,
Divine Mother.
More to upload like this - stay-tuned, thanks
---
It's my absolute joy to share a few of these interspiritual, inspirational poems from my latest book, Garland of Grace: Sitting with the Dying Sun. Please visit to read more (free "look-inside feature") @ Amazon.com where this collection is available for purchase. Thank you kindly for supporting my ministry - it means so much. Every purchase helps to keep the creative work thriving here at this Doing a 360 website. Thank you for visiting this page today.
I trust you were inspired with a few words gathered here in some of these awesome poems - a sacred 360 collection of musings from my heart-of-hearts, Soul poems to provide comfort and peace during these most challenging time of awakening.
Heartfelt Blessings! Thank you, with love and gratitude in grace, Namasté


HOME from beautiful, awesome poems book page