Spiritual Stress Management Links - 360 - Portals To Enlightenment
Welcome! Enjoy quality, spiritual stress management links I've carefully chosen for you. With gratitude, these are sacred spaces which have inspired me throughout the years on my mindful meditation journey around a psychic circle or heroic full-circle to Oneness. So you're invited to Follow Your Bliss.

Spiritual Stress Management Links Exchange Requests
Interested in exchanging links? Please send an e-mail with a link to your site so I may review it. Text links are the only format accepted at this time. Please limit the text links you provide to four lines or less of copy. Thank you. Best with Blessings.

This is a family friendly site...always and all ways.
about this author

NEW LINK! Metro Interspiritual University - 2014/15
---
360 Stress Management LINKS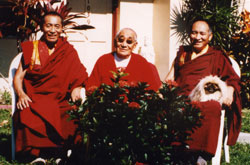 CLICK PHOTO for Padmasambhava Buddhist Center Spiritual Heart-Friends and Mentors, Dzogchen meditation masters of The Nyingma Lineage: His Eminence, The Ven. Khenchen Palden Sherab Rinpoche (left), his brother, Ven. Khenpo Tsewang Dongyal Rinpoche (right with 'Tsamo') and their beloved father, Ven. Lama Chimed Namgyal Rinpoche (center) who made his (parinirvana) transition in the 1990s. Sadly, my beloved teacher and spiritual father, Khenchen Palden has passed as well into parinirvana in June 2010. May they both return swiftly for the sake of all sentient beings!

Spiritual Stress Management Links: An incredible, colorful site chock-full of enriching information: Tibetan Buddhist chants, mindful meditation, healing prayers and beauty. Follow your bliss with conscious breathing.


Once you're there… click on Pema Mandala Tab (for free back-issues) of a magazine I co-founded/edited for six years at the Rinpoches' urging. It's brimming with excellent articles on Tibetan Buddhism, mindful meditation, etc. Browse and you'll understand the nature of my life-work: "Doing a 360" a spiritual, Oneness mandala.


---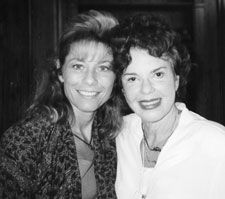 CLICK PHOTO for Sky Dancer Press
Dear Vajrayogini sister-friend and 360 Mentor: Dr. Joan Kaye. Visit her site which features Tibetan Buddhist books of the Nyingma Lineage, Tibetan chants and inspiring photography. In the spirit of the "psychic-circle" she brought me to an Assoc for Humanistic Psychology conference; and the rest, as they say, is history (or herstory)! Read this NEXT LINK portal to enlightenment and see who I studied with…

---

CLICK PHOTO for Joseph Campbell Foundation
This is the online home of the greatest mythologist of our time. I met the esteemed professor when I was a teen. During a private conversation after his workshop entitled, Mythological Symbols and the Psyche, he said to me his now famous words: "Follow your bliss." Campbell's classic circular monomyth of The Hero's Journey inspired my first published book, Doing a 360: Turning Your Life Around to Follow Soul's Purpose, a creative, life-changing matrix. He said: "You have to go full-circle in life; if you have resistance to your past ... you haven't finished the journey."

---
Rev Nancy, E-RYT, DD, PhD in dhanurasana: advanced yoga pose - bow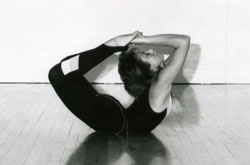 CLICK PHOTO for Yoga Alliance (YA)
This organization is the steward of integrity and diversity in Yoga. It provides a national registry for instructors. Those who meet their standards legally may use an RYT or E-RYT (experienced) after their name. In the Spring of 1999 YA was formed as a not-for-profit 501-C-3 entity. I was one of the first group back in 2000 to become a registered yoga teacher. Today, many thousands have raised the bar of excellence.

---
I trust you have enjoyed a brief journey through these 360 portals to enlightenment. Check back again for updates to these spiritual stress management links. Best with Blessings, Reverend Dr. Ash


Rev Dr. Nancy's Spiritual, Talk-Radio Program (Online)

Follow YOUR Bliss

360 Book Project: A Psychic Circle of Joseph Campbell

Learn mindful meditation

NEW LINK! Metropolitan Interspiritual University 2014