Free Web Radio Show
"Consider This..." with Linda Marie and Nancy
A Spiritual, Non-Religious Talk-Show
- Free Online Meditation -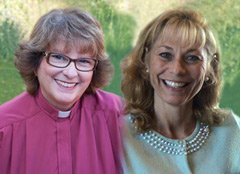 About Your Co-host:
Rev. Dr. Nancy Ash (r)
- FREE Web Radio -
FREE Online Meditation for You - one click away


2013 - STEVEN HALPERN Interview ~ Music Master & Legend

2013 - ANDREW HARVEY Returns! "Radical Passion" Interview

2012 - Special Guest: Andrew Harvey "The Hope" Interview

Guest: Mirabai Starr ~ Mystic, Poet, 11-time Author

Thank GOD for Evolution! Guest Author, Rev. Michael Dowd

Finding Joe (Joseph Campbell) Guest Filmmaker, Pat Solomon

2013 - "Doing a 360 into ONENESS"

2012 - Honoring the Rev Dr MLK Jr.

2013 - Humanity's Team Worldwide Director/Trustee - Steve Farrell

2011 - Special Guest Raja Yogi Master, Chandraji Shekhar


2015 Update - Archived Shows for YOU
FREE Web Radio to Inspire Living in Oneness
"Consider This..." delivers thought provoking, in-depth programming with spiritual evolutionary luminaries, authors, scholars and teachers who are on the cutting-edge of an integral life, collaborating to raise personal and planetary consciousness for a New Earth. Check it out - InJoy!
This lively radio show also offers joyful and timely discussion with veteran, interspiritual ministers, co-hosts, Rev. Dr. Linda Marie Nelson and Rev. Dr. Nancy Ash, as well as a "Doing a 360" segment to re-calibrate listeners into a higher vibratory frequency through unique, free online meditation, relaxation and imagery with beautiful and powerful music.
"Consider This..." presents quality non-religious, spiritual programming honoring all perspectives and traditions that will inspire, educate, and motivate you to learn while opening your heart to the multiple ways that we, as aware and integral minds are dedicated to transforming our world to Oneness.
One click away - Free Online Meditation
We always joyfully closed the shows with: "Until next time, you're cordially invited to consider this: Be OPEN to anothers point of view. We LOVE you ~ Thank you."

Your Co-host, Rev Dr Nancy's 1st book



Free Online Radio ARCHIVES are a click away...
Please enjoy tuning in to our first Women in Spirituality Series, celebrating International Women's month, March 2011. During these inspiring programs powerful women share their important voices of Oneness for all. We had great feedback on these shows...

The VOWW - Voices of Women Worldwide with Founder, Vinanti Sarkar

Carol Ohmart-Behan "Sacred Feminine Meditation" Glastonbury/Labyrinths

Nathalie Bonnard Grenet "Honoring Earth" Meditation