A HEALING VISION
Doing a 360: Turning Your Life Around to Follow Soul's Purpose
A Book to Change YOUR Life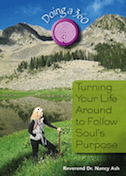 About this Author 360 Healing Vision for Soul-Spirit
DOING A 360 @ Amazon Look Inside
Heartfelt Thanks for Your Support.


Modern day mystic and midwife of the new paradigm, Rev Dr Nancy Ash, DD, PhD wrote a life-changing, nonfiction book Doing a 360: Turning Your Life Around to Follow Soul's Purpose. A unique stress management model, this heroic "full-circle" awakening process invites you to follow Soul's purpose. (published 2012)

This guide-book - chock full of meditations, visualizations, exercises and strategies inspiring radical change - culminates in your 360 Daily Practice. Based on Nancy's life-work dedicated to the upliftment of humanity for 35 years, this remarkable true story of heroic divine intervention offers hope that you will wake up to "Do a 360" and turn your life around - completely. She says, "If I can do it... you can do it."  Doing a 360 is Soul in ACTION within Spirit, an evolution of consciousness. BEING is the sacred ground for "Doing"


Consider "Liking" Doing a 360 on Facebook. Visit for quotes and excerpts from the book, beautiful photos and inspiration. Enjoy!
Doing a 360 is inspired by great mythologist Joseph Campbell's circular monomyth, the "hero's journey." Ash met and studied briefly with him as a young woman, taking his personal advice to "follow your bliss." She integrated this myth - a spherical path to wholeness - into postmodern, spiritual evolutionary collaboration... then wrote the book on it.
360-degrees is a full circle. 360 = One (Oneness). It's spherical: All-inclusive, all-encompassing. Nothing is left out - no "thing." Waking-up to see a 360 Healing Vision from Soul within Spirit is "Doing a 360." It is Soul's awareness through transformation of consciousness that inexorably merges with a divine matrix of life. You will find Soul's purpose. Media Contact

Enjoy archived shows, Rev Dr Nancy, talk-radio co-host


Praise for this life-changing book:
Doing a 360: Turning Your Life Around to Follow Soul's Purpose
"This spherical or all-encompassing 'three-sixty' philosophy has spiraled to the surface at a crucial time in history. Reverend Ash, a heart-centered teacher of heroic transformation through journey of the Soul, emerges in a fresh voice to help midwife the birth of our next paradigm shift, a shift from the illusion of separation to a world of Oneness." — Steve Farrell, Worldwide Director, Humanitysteam.org

"Nancy Ash exemplifies the best of the yogic and mind enhancement qualities. Her book, Doing a 360, is an invaluable contribution to the field of self-liberation." — Joan Kaye, Ph.D., President, Skydancerpress.com

"Rev. Dr. Nancy Ash asks you to ascend with her through deep reflection, spiritual practices, meditations and inspirational writings to do a complete 360-degree transformation. She offers up the invitation for "turning your life around completely" in an all-encompassing, multidimensional, circular experience... and to enter the "sacred spin zone." Accept Nancy's invitation to 360 and your life will never be the same." — Cathy Haven Howard, author of Spirit Expression for Everyone

"My esteemed colleague and friend, Nancy Ash, embodies the message of her book, Doing a 360, and compassionately inspires others to fully self-actualize." — Rev. Dr. Linda Marie Nelson, ADL, OFJ

"I implore you to be present and available to this work of art, Doing a 360. My dear, Spirit Sister Friend has orchestrated a divine treasure for all who hear the call to return home." — Tracey Burrell, Oneness Advocate


360 SPIRITUAL HEALING VISION
Doing a 360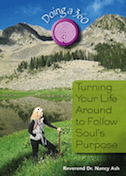 Through divine guidance in 2006, Nancy coined a phrase, "doing a three-sixty" as a fresh life-metaphor to embody a contemporary message of conscious change to follow Soul's purpose. It's a 360-degree healing vision; a sacred spin zone: thinking outside the box and around a circle - your circle.

Doing a 360 is a spiraling, ascendant process to an integral, new way of being.

Dr Ash is creator and managing editor of this site (enjoy all the complimentary content). A heart-centered mystic of the sacred ancient ways, she earned a Doctorate of Divinity in Metaphysics and Spirituality, which led to this first book, Doing a 360: Turning Your Life Around to Follow Soul's Purpose. She also earned a PhD in Religious Studies from Metropolitan University, which is now known as New Earth Theological University (NETU online). Dr. Ash is currently President and Dean of NETU's School of Interspiritual Studies.
In 2010, as producer and co-host, Nancy launched an online spiritual talk-radio show, "Consider This..." which ended in 2015. Subsequently she created, and now hosts an educational Web TV program, Kaleidoscope, at the New Earth Project TV network on YouTube. Her second book, Garland of Grace: Sitting with the Dying Sun, was published in 2014. She was a long-time, online/print media columnist of, Doing a 360: Sacred Strategies for Optimal Living for her intrafaith ministry, the ADL.

Rev Dr Nancy Ash, DD, PhD has been described as a gifted spiritual mentor, a teacher's teacher who imparts a healing vision of truth with warmth and humor. As a fresh voice of Oneness with her "360 Message" she invites you to read this book and re-calibrate your life to joy following Soul's purpose. May all beings benefit from this auspicious activity!
Love with Gratitude in Grace, Nancy Ash, Your Spiritual Life Coach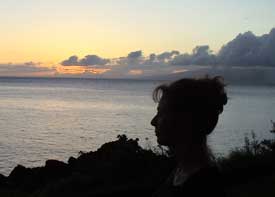 Articles by this author - SiteMap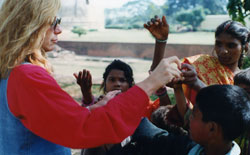 Doing a 360 (in paperback)
OR eBook at The Apple iBookstore (click the icon/box)
Thank you for supporting my ministry! Love, Nancy

HOME from a healing vision Doing a 360