Build a Labyrinth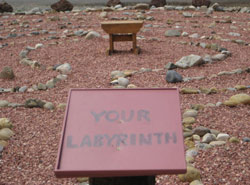 Awaken Your Soul as You Walk
- 360 Tips and Photos -
About this Author
Welcome. This page is designed to inspire you to build a labyrinth yourself. Tip #1: Quite frankly, If I can do it...you can do it! You're visiting the official Doing a 360 site created by Rev. Dr. Nancy Ash. Enjoy photos taken in 2010 while creating our classical, 7-Circuit Labyrinth in a fairly small backyard. The ancient Labyrinth (back by popular demand) is a wonderful, sacred yet simple tool for walking meditation, contemplation and prayer.
My radio show Labyrinths & Rituals (2013)




Here you can see the layout in stone over grey weed-prevention paper. Using that material is Tip #2: This was a two-person (hubby Jon and I) project that took only a few weekends to complete. The circumference stones (360) are from Taos, New Mexico, and are therefore very special; all carefully, hand-picked from the river.



Tip #3: Start calmly and simply. Perhaps this is really tip #2..  Consider building a smaller labyrinth for your first project. Ours is 17 ft. a 7-Circuit, Classical Labyrinth. It's the smaller size used for portable, fabric labyrinth workshop set-ups. One of many labyrinth designs, this style is the oldest known (so far) on the planet, originating in Crete about five thousand years ago.

In order to build a labyrinth you need to have a deep desire to establish a sacred portal to a vortex point in the Earth.
In other words...you don't really create these meditative spaces...they just sort of "build" you - so to speak. Earth calls...and you respond; you just know, in your-heart-of-hearts that the land wants it there. We are therefore sometimes referred to as "The Keepers" of The Circles.

Labyrinth Designs Still unfinished at this stage, my photo illustrates a little path of crushed stone that I designed to take us from our patio to this sacred space. It is important to have a clear path in and out.
Remember, a maze (in which you can get lost) is not a labyrinth. Labyrinths represent life: "Doing a 360" ...there is a clear way in and a path out! So Tip #4 is definitely plan ahead!



Reap the benefits - build a labyrinth today!
"Doing a 360" Jonathan walks his labyrinth most mornings, weather permitting. What a great stress-buster as well for after work. Here he is enjoying the fruits of his loving labor as "A Keeper" of The Circles.



Okay… perhaps YOU are inspired to build a labyrinth now?
We hope so; they're wonderful to have available right in your yard. I invite you to look at some other beautiful labyrinth designs available. A hobby of mine is walking labyrinths wherever I go, which is a powerful 360 meditation method.

We always check online and then browse through local papers. When visiting Kansas City in 2009, we walked the labyrinth at Unity Church. In 2011, in South Florida I was honored to ordain two ministers in a memorable ceremony on a marvelous marble labyrinth. Here in New Mexico they are sprouting up everywhere. We're off to Sedona, AZ again to walk a few more, so stay tuned...

Click link to continue… I've some lovely photos of labyrinth designs in the amazing Northern New Mexico mountain town of Taos.
CONTINUE to NEXT PAGE (more labyrinth info & photos)

Need Help? FREE Prayer Request from Rev Dr. Nancy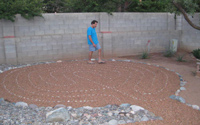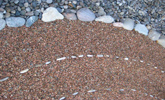 This author's books

Send an e-mail

HOME from build a labyrinth