360 HATHA YOGA POSES
Attunement to Soul-Spirit

What is 360 YOGA?
About this Author Welcome to 360 Hatha Yoga Poses Site-Map. 360 Yoga (three-sixty) is a style of yoga (asana practice) that I developed during decades of teaching... more than 14,500 hours of instruction with wonderful students like you from all walks of life. Whether you're just beginning yoga or a seasoned practitioner, it focuses on a healing spiritual attunement of the physical body to Soul-Spirit during practice. It's an integral, compassionate and intuitive approach to this ancient art and science that honors all sacred traditions. The 360 Yoga style blends the best essence of various schools within a matrix or mandala of the Tibetan Buddhist vehicle (yana) of Dzogchen.

The 360 Yoga method is for everyone. How could it not be since the philosophy is "spherical" -- three hundred and sixty degrees -- a complete view. No one is left out! Not the sick or frail elderly, the obese, the mentally/physically challenged or the strongest of body-builders. Those just beginning yoga are guided to their spiritual heritage through a wonderfully powerful movement system. The emphasis is consciously developing keen awareness of the Soul-Spirit while feeling ITSELF in the temple (the physical body IT has chosen for this lifetime). Soul meets the body: Asanas provide a template or context (as a portal) for connecting with SOURCE.

Listen to Nancy, co-host of Spiritual Talk-Radio since 2010
Yogini Nancy's books on Amazon -free look
Portal to Soul-Spirit is 360 Yoga
Meet my 103 year 'young' student! (photos)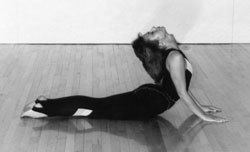 Rev. Dr. Nancy Ash, E-RYT/500 in Cobra Pose

Founder of 360 Yoga Nancy Ash created the 360 style of hatha yoga poses through divine inspiration in 2006. An ordained Interspiritual Minister and certified Creative Wellness Instructor since 1985, Nancy is also a long-time practitioner of both Hatha Yoga and Dzogchen of Tibetan Buddhism. She has a reputation as a warm and compassionate pioneering teacher that blends her deep spiritual devotion to Soul-Spirit with humor and fun. Reverend Dr. Ash is a nationally registered teacher with YA as a RYT500 and E-RYT500, which means she has the most extensive/highest level of credentialed experience. (14,500-plus hours and counting!)

---
"When Soul meets the body... all is calm and clear. Joy arises and abides from ineffable awareness of your true nature." -- Nancy Ash

---
SiteMap 360 Hatha Yoga Poses
Newer Articles Read articles and stories from Dayspring, re-named: Love 'n Action E-News and other publications.

360 Yoga: What is the 360 style?

SEATED Mountain Pose (Tadasana)

Articles 360 Yoga: 7 Stretching Techniques (good for new students)

More articles for Beginning Yoga - Awaken your Soul-Spirit

Article on 360 Yoga: Savasana, Pose of Relaxation

My article on Tree Posture: Portal to your Soul-Spirit

"Tibetan Yoga" good if beginning yoga or seasoned practitioner

Hatha Yoga Poses for SENIORS (beginning yoga)

103+ year young Yoga Teacher! Read a story of my favorite student

360 Yoga for SENIORS Ages 60-100+ Inspiring Advanced Photos

360 Yoga for SENIORS (beginning yoga)

360 Yoga 4 SENIORS Awaken Soul-Spirit "if they can do it...you can too"

Inspiration for Soul-Spirit: Quotes - favorite Yogis & Yoginis

HEALING QUOTES awaken Soul-Spirit

YOGA QUOTES hundreds to choose from!

Inspiring PEACE QUOTES hundreds more!





"Alpha State" Brainwaves - Awaken your Soul-Spirit

What does "Doing a 360" mean?

Awakening Soul-Spirit - Pranayama: 360 Yoga Breathing Techniques