360 Yoga for Seniors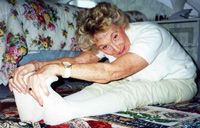 Namasté ~ Welcome to Yoga for Seniors. My dear yogini friend Muriel demonstrates a 360 Yoga asana, the Forward Bend Pose, Paschimottanasana, in her home during a private lesson with me. As you can plainly see she is quite relaxed holding her feet with ease. And look at that beautiful straight back. (psst...you know how we girls don't like to tell our age...well, shh...she's in her mid 80s!) Inspired yet? Let me show you some more amazing yoga pictures...

103 year 'young' yoga teacher? Click to be blown away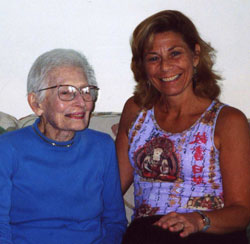 This is one of my cherished yoga pictures. Read about a dear friend and devoted student Reta, a supreme yogini from my Yoga for Seniors classes.



Here's Muriel again in this inspiring seated yoga asana. See her arms behind her back in the 'Namaste' Mudra? Incredible, huh? She has her hands together effortlessly. She is sitting crossed legged in Sukhasana, a yoga asana usually known as Easy Pose. What a joy to be together for 15 years in my Yoga for Seniors classes.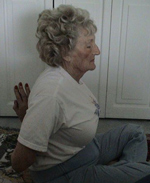 Learn a few EASY & BASIC poses (with yoga pictures to help)

More 360 Yoga for Seniors...

Yogini Doretta (septuagenerian, between the age of 70 and 80) demonstrates the Tortoise Pose, known as the yoga asana, Kurmasana. Notice the joy, the effortless playful ease of her posture as she posed for this photo. In 360 Yoga, all is calm and clear. Relaxation is the key, a portal to the Soul.
Click here to explore more of that 360 Yoga Asana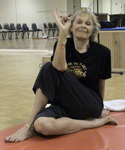 360 Yoga Testimonial "Nancy was my yoga instructor for 10 years, and she is a wonderful instructor as well as a fabulous person. She is so knowledgeable in many areas, and it was my pleasure to have the experience of knowing her. No matter where I went for Yoga, I was told how flexible I was, and that was due to Nancy...just love her." -- Doretta Seidman, Florida, USA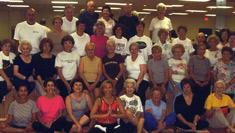 A few beautiful Souls with me in class, 2005



About this author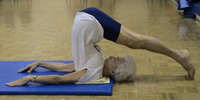 In this yoga asana, the Plough Pose, Halasana, Yogini Pearl demonstrates beautifully. Notice the lovely straight spine without the need for cushioning (props) under the feet. She is a great practitioner...and so inspiring at her young age. (Shh...I think somewhere between 79...and 81). I have lots of yoga pictures of her as well as many other yoginis. There's dearest Magda, Claire, Ethel, Bernie, Sandy, Barbara -- just to name a few. Let's look at some more...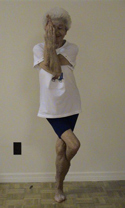 Ah…here she is again! Pearl illustrates a yoga asana of the Eagle, Garudasana. Are you getting inspired? If you're into yoga, you know this posture is challenging. She holds it with grace and power, with an 'eagle eye' of awareness.


Yogini Irene, one of my many nonagenerians (90s) sitting very focused in assisted Easy Pose yoga asana at the end of class. Her beautiful Soul tuning-in, connecting to Source. That's Yogi Bill behind her. They attended my daily 360 yoga asana classes for 15 years. Irene had the best laugh! When we occasionally played with 'laughter yoga' she would really get the whole class laughing hysterically.


Here she is again (Irene) working diligently on her balance from abdominal strength in this yoga asana sometimes called, the Table Top.

Surfing the web is about choices, isn't it? If you feel like reading some of my 360 yoga articles you may click below. If not today, then you may choose to bookmark this site so you'll find it easily when you need inspiration. Other stories, articles and more yoga pictures may not specifically be geared at yoga for seniors, however you'll enjoy learning more about this ancient healing discipline that I love so dearly. Enjoy! Click here: 360 Yoga: Hatha Yoga Article

More 360 yoga pictures...ADVANCED Seniors

NEW...Info & Article ... Yoga Asana: The Tree Pose

Journey HOME from this yoga for seniors page...