360 Yoga Albuquerque
- Yoga Therapy Program
- Corporate Yoga (on-site)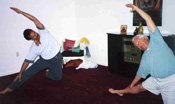 Welcome to 360 Yoga Albuquerque. This is the official website of Rev Nancy Ash, E-RYT, DD, PhD (on-site, corporate Yoga)

I know you're busy so here are some stats, quick at-a-glance:
Nancy Ash is Registered Nationally with Yoga Alliance as E-RYT/500. What does that mean for you? She has highest recognized level of credentialed skill, teaching 14,500-plus (yes, that's right, 14 thousand teaching hours). Newer online programs... Graduate and Postgrad Degrees

She's a pioneer in this field teaching consistently since 1977.
Nancy is a Certified Creative Wellness Instructor since 1984; she excels in Spiritual Stress Management and Yoga as Therapy.
She has current Licensure with the City of Albuquerque. As a fully ordained, federally recognized Interspiritual Minister since 1985, she brings a seasoned, deep insight and compassion to her class experiences. Also, Dr. Ash holds a Doctorate of Divinity (DD) in Metaphysics and Spirituality; and a PhD in Religious Studies. Since 2010, she's been co-host of a spiritual, talk-radio show, Consider This; and in 2013 became an Exec Director and Exec Producer of The Art of Living Well Radio Network. Listen to archived shows w/her guided meditations

More about Your YOGA ALBUQUERQUE Teacher

E-mail Rev. Dr. Nancy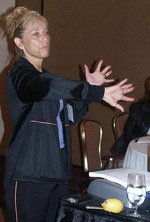 "I had the unique pleasure to offer two "Doing a 360" workshops for more than 300 employees at the 2007 State of New Mexico Metropolitan Court Conference. What great people!" - Nancy
(Photo Courtesy of Metro Court. Many Thanks from 360 Yoga Albuquerque!)
Dr. Ash's Bio-Sketch: Nancy has been devoted to a life in service for thirty-five years uplifting humanity by empowering thousands to "Do a 360" with their lives. She's an author, poet, modern mystic and midwife to the new paradigm.

Rev. Nancy is a gifted mentor/teacher and counselor with a multi-disciplinary approach. Her root practice is Dzogchen and Sivananda Yoga. Nancy is a nationally certified Wellness Instructor featured in Creative Wellness, published by Warner Books, 1987. A pioneering yoga & meditation practitioner since the 1970s, she's a stress-reduction expert with highest level registration from Yoga Alliance; and she's a member of International Assoc. of Yoga Therapists. Dr. Ash is author of an inspirational book, Doing a 360: Turning Your Life Around to Follow Soul's Purpose and a poetry collection (2014), Garland of Grace.
Check out her books @Amazon.com

Okay, so what can YOU offer to your employees?

Chair Yoga Classes Simple, effective and easy to attend! No mats, no space issues, no worries about bringing clothes to work and changing -- just practice in a chair! These sessions can run 30-55 minutes. Lunch time works nicely. You'd be surprised how much Hatha Yoga you can do in a chair, and then apply what is learned "at your desk."

Traditional Hatha Yoga Classes Tailored to meet your needs. You'll need a larger space. Classes are usually at least 1 hour and students will need mats. Before or after work is best.
Meditation Training Your employees will love learning meditation styles with simple breathing techniques to reduce stress levels. Using chairs they don't have to sit on the floor. Lunchtime or before or after work is nice.

Stress Management Classes These "Creative Wellness" sessions are fun and again, don't require much space -- just chairs, and a towel for lying on the floor for relaxation training. Lecturette and experiential with Yoga.

...at 360 Yoga Albuquerque we can arrange for workshops as well as one-time or on-going classes. The choice is yours.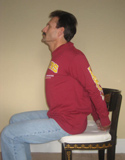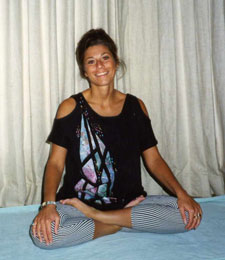 A Few 360 Yoga Albuquerque Testimonials

2012 Private Session
"Nancy honored my heart, my soul and spirit with great love and healing..." - L. DeMarco, New Mexico

2010 Life Skills Class
"Nancy taught a Life Skills class at our agency on her areas of expertise. The population we serve at Susan's Legacy is very diverse and often carries a lot of stress. Nancy taught the staff, women and children we serve deep breathing and chair yoga - tools we can use at home or in the office. She answered all questions accurately and professionally. The class was tailored to our population to ensure everyone got the most of it. We really appreciate it Nancy - and our women are able to use these techniques at home, at work, and during their support groups. Thanks again Nancy! Everyone loved it."
- Cassie Hortsch, Programs Manager, Susan's Legacy,
Albuquerque, NM

2010 Yoga Albuquerque Workshop
"Nancy showed us simple yoga poses we could do in our office chairs that truly relaxed the stress and re-energized us. We learned tools (poses) that will enable us to transform our work breaks into mini 'retreats'."
- Nico Marie Ashe, Director, Children's Safehouse Network, NM

2009 Yoga Class
"It has been over 30 years since I have taken a yoga class. Over the last several years, my stress level has increased significantly. Nancy came up with a suggestion to use post-it notes at my desk or around the house to remind myself to breathe deeply and get up and walk around. It is amazing how one refresher class has helped me sleep better, loosen up those tight muscles around my neck and shoulders, and remind me to simply "breathe deeply." We don't always have to make a long term commitment to bring exercise, meditation or deep breathing back into our life. We just need to start with only a small step and the rest will follow in time. Thanks again for your help – it really is working."
- Debra Inman, Vice President, Business Development
Albuquerque Economic Development



360 Yoga Albuquerque will get you started
Here's what to do next…send an e-mail at CONTACT button left

After our initial contact, I may come to your facility to view the space and make suggestions. I also offer a FREE mini-class of some type at this time so your employees can meet me. This helps me to help you better.

With feedback from your employees we can tailor a program to meet your company's needs. Once a week is typical unless you want to provide two different classes, such as Chair Yoga and Meditation Classes. Fees start at $100 per session depending on the size and frequency.

My 360 site is a great reference for yoga albuquerque aspirants. If you have time to browse today, click links chock-full of info and articles on yoga and stress reduction, etc. ~ Or learn while listening to my radio shows at your desk...you're always just one click away. All programs are archived for 24/7 listening convenience. Enjoy!

Best with Blessings, Namasté, Nancy

360 Yoga - SITE-MAP

Stress Management - SITE-MAP

Listen-in to Nancy on radio w/guided meditations

E-Mail

HOME from Yoga Albuquerque