A Blessed Union of Souls:
Alliance of Divine Love Ministry

"The ADL"
WELCOME to the online home of a unique blessed union of Souls,
Chapel #455 of the international, interspiritual ministry,
The Alliance of Divine Love, known as "The ADL"
IN ADL WE LET OUR 'COLLECTIVE' SOUL SHINE

Rev Dr Ash, DD, PhD
- Senior Minister
of this ADL Chapel


About your Spiritual Mentor/Ministerial Trainer

Rev Nancy's weekly radio show (FREE Archived 2010-15)

ADL conference photos
Healing Code & Philosophy: The Greatest Degree of Love
A Blessed Union of Souls: The Alliance of Divine Love began long before you and I walked the earth - indeed - before the earth and universe were even formed. The entirety of creation is linked through Divine Love's relationship to, or alliance with, Itself.

Love forever seeks greater degrees of Itself within Itself. Thus the beauty of each spring flower, each songbird melody, is formed...that Love may find Itself through creating beauty and joy within Itself.

All the joy, peace and happiness you have ever felt is Divine Love. In creating you, IT found one of Its greatest joys and now seeks to draw you "Ever Closer" to Itself. Its constant drawing of you nearer to Itself is called spiritual development.

Through this process you will be led to happiness and degrees of Love beyond your wildest visions. The Alliance of Divine Love, Inc. was legally formed on earth to aid in Divine Love's process of mankind's spiritual development. It is a channel for workers and guides from the "Organization of Light" (called by many different spiritual names) to present higher teachings from realities beyond earth.
FREE Prayer Request - No membership required - Click HERE

Ready to learn more? E-mail Rev. Nancy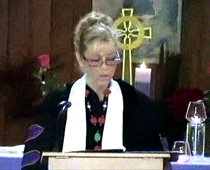 Reverend Dr Nancy Ash, DD, PhD, E-RYT
- ADL Doctoral Program Mentor
- ADL Ministerial Trainer and Mentor

- Trained/ordained by ADL Co-founder, Rev Dr Barbara Hanshaw
- Published Author

- PhD in Religious Studies
- President / Professor of New Earth Theological University
- Exec Dir, NewEarth University

- DD degree - Doctor of Divinity in Metaphysics & Spirituality
- Kaleidoscope WEB TV Host
- ADL Board of Trustees Education Committee Member (former)
- Spiritual Talk-Radio Co-host & Producer (2010-15)


Originally ordained in 1985 by the Rev. Dr. Michelle Lusson Sycalik, founder of (CCWH) Community Chapel for Wholistic Healing in Virginia, USA, Rev. Nancy trained further and was ordained in Florida, 1998 by the late Rev. Dr. Barbara Hanshaw, co-founder of The Alliance of Divine Love Ministry (The ADL).

Rev. Dr. Ash is a Ministerial Trainer who may legally ordain students through the ADL Seminary to become interspiritual ministers recognized by the U.S. government.
Rev. Dr. Nancy was a longtime contributor of a monthly column called, Doing a 360: Sacred Spherical Strategies for Optimal Living for Love in Action e-news, the official, international on-line publication for ADL ministers.
She is honored to be a part of this unique, blessed union of Souls.

Rev. Dr. Nancy's published books at Amazon

ADL Conference Ordinations 2011
 



Become a federally recognized Minister: ADL web-site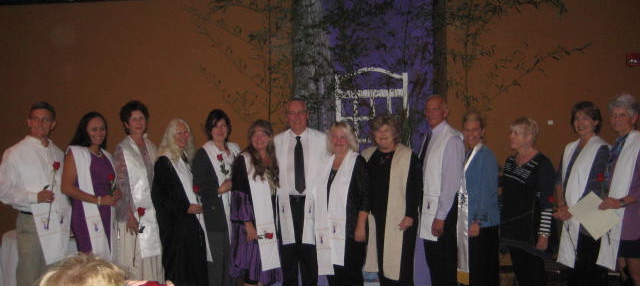 That's me, fourth from the right next to co-founder, Rev. Dr. Barbara Selwa. I had the privilege and honor to ordain Rev. Karen Turek of Nevada and Rev. Jonathan Delaney of Arizona at a national conference in North Carolina, 2012.
ADL Ministerial Training & Ordination Program
A Blessed Union of Souls: ADL Ministers
Alliance of Divine Love Ministers are ordained and certified by ADL, issued a Charter and Chapel#, which is recognized by the federal government with issuance of an EIN# from the IRS, only after completing training programs in counseling, teaching, healing, and personal spiritual development.

Each candidate for ministerial status must complete both study and practical application programs. Full ministerial status is conferred only after one to three years of satisfactory internship and registration with the federal government as aforementioned.

Ministers with expertise in particular para-scientific areas must also have completed extensive development in their specialty in accordance with the affirmations in ADL's credo referring to the giving, receiving and sharing of God's true substance and nature through the use of tools of the spiritual sciences. Thus, Alliance of Divine Love ministers may use counseling, healing and psychic channels or other talent areas while serving others. However, those being counseled should note that the primary aim of every ADL minister is to promote spiritual growth in, and through, Love. The ADL is a healing ministry; its ministers are trained spiritual counselors, teachers and healers. Therefore, the talent or gift used is not the focal point of the service rendered. ADL ministers work only to enlighten and uplift souls and is truly a full-service /healing ministry.


ADL Spiritual Development Courses
Alliance of Divine Love Ministers offer to those interested and aware members of the communities in which they serve a Self-Awareness program of study. The materials for this consciousness awakening program are contained in a workbook of Spiritual Development entitled, Ever Closer. This course introduces the student to many levels of awareness that can be creatively tapped to ease the tension and stress of life in today's society.

HERE for fees, schedule, more info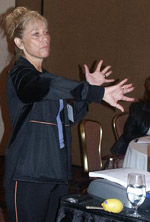 Rev Dr Nancy in action during her
"Doing a 360" Workshop Series for
The State of New Mexico, 2007
Metro Court Employee Conference

Photo Courtesy of Metro Court ~ Thank you
Services Offered at this ADL Chapel
- A Blessed Union of Souls -
Individual/Group Classes lead to ordination. FAQs: schedule, fees, etc.

Gatherings for a Blessed Union of Souls

Alliance of Divine Love Senior Certified Ministerial Trainer
ADL Doctoral Program Mentor
Southwest, USA (Albuquerque, New Mexico)

Individual Appointments
Phone Consultations - SKYPE - ZOOM - Group Sessions
Classes; Workshops; Ceremonies; Online Training

Spiritual Life Coaching – Specializing in:
Spiritual Stress Management Strategies
360 Yoga Therapy/Pranayama
Meditation
"Doing a 360" Sacred Spherical Strategies for Optimal Living:
Relationships, Optimal Health/Healing, Abundance
Creativity/Art and Writing Skills

Spiritual Counseling
Self Development Through Conscious Awareness of Soul
"Doing a 360" Awakening Process

Ceremony Officiant – Specializing in:
Weddings
Home Blessings: Moving(In), Harmony(During), Expedite Sale(Out)
Pet Blessings: Birth, General Healing, Trauma, Transition
Life Changes: Health/Healing Issues; Milestones: Birthdays, Retirement
Transition (Death): Hospital/Hospice Visits; Family Prayers/Blessings/Ceremonies
Labyrinth Walking

Vibrational Healing
Energy Balancing; Chakra Alignment
Applied Kinesiology; Bach Flower Remedies

Send e-mail HERE

"If you feel guided to me,
if you resonate to what you feel...
then know it is your Soul desiring to fulfill Its purpose.
My destiny is to help individuals to discover their true nature
in this present moment."
-- Rev Dr Nancy Ash


During the ADL Ordination candidates take the "Oath of the Rose"
supported by a blessed union of Souls

Thanks for visiting today. May all be splendid for you and your entire family. I'm the creator and managing editor of "Doing a 360" which is a phrase coined through me in 2006 with divine inspiration.
Browse around this 360 sacred circle for more spiritual stress management articles to explain what that means. Write to me or send a prayer request.  I trust you've gained insight to a blessed union of Souls. Let your collective Soul shine!

Yours in the Greatest Degree of Love,
In oneness with gratitude in grace, Rev Dr Nancy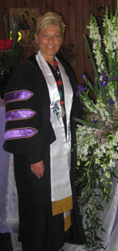 About YOUR ADL Spiritual Coach

More Info: ADL Ministerial Training & Ordination Details

Prayer Request

HOME from blessed union of Souls