Your 360
Spiritual Gift of Healing
Spiritual Gift of Healing: As a spiritual life coach, professor and mentor for more than thirty years, I enjoy hearing from many visitors from every corner of the world. Welcome! Tell me about yourself: How you arrived to the 360 web-site; your feedback on what you learned; what country are you from? Do you (or a friend or a family member) need prayers for healing? How may I assist you today on your sacred journey to wholeness?

Do YOU want to "Do a three-sixty" and change your life?

Please sign the guest book here below in the big white box.
Please feel confident that your e-mail address is very secure. That is why I have been using this method (scroll to the box below) to avoid spambots (little cyber creatures roaming the web looking for personal data). Spam has sadly run rampant these days so you will definitely be seeing more and more sites using this type of contact-form. Please be advised that I DO NOT sell email addresses to third parties.

Heartfelt Blessings in Oneness and Namasté
The Reverend Dr. Nancy Ash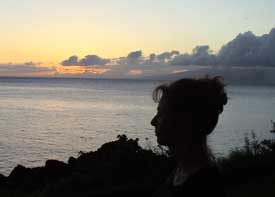 Listen to my archived FREE spiritual radio show


Your Spiritual Gift of Healing
Dear New Friend, I have created this unique portal mostly to assist all of my students and clients on their heroic journey to wholeness.
It has been such a joy to work on this project for many years (since 2006). I trust that you will browse around these many interesting pages chock full of content and be inspired. Let me know if you have some suggestions for new topics or any additional relevant information.
Consider opening your heart-of-hearts to a world of oneness with a sovereign, flexible, integral or 360 View.
Open to new vistas of consciousness.
Awaken to your Soul!

Thank you for visiting Doing a 360 today.
I appreciate you buying my books that are still available at Amazon or donating to my ministry. Every little bit that you give really helps to keep this site going.
Thanks kindly for your help. With Love and Gratitude in Grace, Rev Dr Nancy in the Land of Enchantment, USA.

Doing a 360: Turn Yourself Around Completely and… Consciously Create the Life YOU Choose from Soul's Desire to Follow ITS Blueprint
My latest book of sacred poetry - Garland of Grace

HOME from your spiritual gift of healing