Your Top Online University is New Earth Theological University (NETU)
Top ONLINE University: NETU


Welcome to an introductory overview for a top online university, New Earth Theological University - a cutting-edge Interspiritual Academic Community established in 2008 that has morphed through the years into NETU.  You've been guided to this brief intro written by Rev Dr Nancy Ash, DD, PhD - New Earth Theological University President and Dean of the School of Interspiritual Studies, a Board Member, Professor and Advisor. (Dr Ash is an author and creator of this site, Doing a 360)
The Mission Statement of New Earth Theological University is to facilitate interspiritual academic studies and foundations for leadership and service in creating a world of justice, peace and dignity.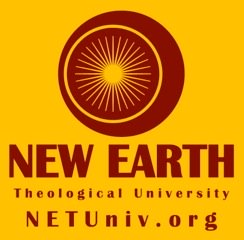 New Earth Theological University is a spiritually diverse, new-paradigm educational community building excellent progressive foundations for leadership, teaching, ministry and service.
Originally founded as a seminary school (with online seminary courses) by former president, Dr. Two Hawks Stafford, this academic community was formally Metropolitan Interspiritual University. In 2016, it morphed into a unique new-paradigm top online university called NETU (as it's affectionately called by its diverse faculty and students). The learning community evolved with expanding study and research vistas of consciousness into a postmodern, integral spirituality matrix with smaller student-teacher ratios for more personal, in-depth learning experiences. Through Dr. Stafford's founding vision and extensive administrative oversight and now with Dr. Ash's continued loving stewardship, New Earth Theological University offers you three unique platforms of study/research:
School of Interspiritual Studies facilitates unique graduate and postgraduate interspiritual studies in a broad range of creative academic disciplines, directing the general and interdisciplinary educational programs.
NETU Seminary with its integral philosophy of Reinventing Seminary, provides online seminary courses of study designed for students preparing for ordination in particular faith and interfaith communities. With a post-modern theological framework of Oneness we feel it is cutting-edge.

School of Anthropology & Sociology of Religion - ASR is an interspiritual and interdisciplinary research, education and advocacy institute dedicated to addressing practical and theoretical questions arising from the integration of interspirituality in the global community.
If you have been guided to pursue a powerful dream of achieving quality higher education, NETU has exceptional professors, advisors and teachers offering very affordable curriculum leading to a Masters Degree in Divinity; a Master of Arts in Religious Studies; and a PhD program in Religious Studies.
NETU provides inspiring online seminary courses and interspiritual studies in two academic terms each year:
Fall Semester (September - December)

Spring Semester (February - May)

Thank you with heartfelt blessings for your interest. Have courage to follow your dream; you can do it. Apply today and empower your life through advanced and meaningful course programs of study. Follow your heart-of-hearts and achieve what you've always felt guided to do. Click (the blue contact tab, left) for more info on NETU, one of the finest new-paradigm schools.
May your studies at this top online university bear fruit for all sentient beings! 
Love with gratitude in grace,
NETU President
Dr Nancy Ash
HOME from this top online university