Gods of Buddhism

One of the many "Gods of Buddhism" pictured here is loving Maitreya, known as The Future Buddha.

Enjoy this article related to basic Buddhism beliefs for a column I wrote for many years entitled, Doing a 360, published online and in print-form by The Alliance of Divine Love International Ministry. (May, 2009)
May all beings be happy!

This author

Online courses - Buddhist Studies

Basic Beliefs of Buddhism: The 3 Jewels and 4 Nobles


Tibetan Gods of Buddhism
DOING A 360 - Sacred Spherical Strategies for Optimal Living
by Rev. Dr. Nancy Ash

BUDDHISM BELIEFS: Let us turn 360 degrees to our brothers and sisters of the Dharma for spherical strategies.

Dharma means teachings of the Buddha. There is a misconception that there are many Gods of Buddhism.

Yes, there is Manjushri, Vajrasattva, and Tara—to name a few. These "Gods" are abstract, omniscient mind qualities of our true nature, inherently perfect as God is perfect.

Avalokiteshvara, for example, is the God of Compassion. Tibetans believe that His Holiness the Dalai Lama is a physical emanation of this Godlike essence. For more compassion we do meditation practices, prayers and mantras of Avalokiteshvara to 'perfect' this. The Dalai Lama leads by example devoting his life to being compassionate. Similarly, to cultivate skillful means through wisdom, we focus on Manjushri.

In Tibetan Buddhist iconographical art (Thangkas) we see various Gods of the Buddhist tradition depicted. Each Buddha reflects a magical display of knowledge. Buddhists have a practice, like lawyers and doctors have a practice. Analogous to a pediatric physician, Buddhists "specialize" their enlightenment activities. When practicing on a particular aspect (law of attraction draws), we raise our vibratory frequency spiraling higher to optimal living.

Best with Blessings, Rev. Nancy

The Rev. Nancy Ash, E-RYT, DD, PhD is an ADL Ministerial Trainer, Doctoral Professor and longtime student of Dzogchen of Tibetan Buddhism. She writes from New Mexico.
Thank you for visiting 360 today.
Best with Blessings, Rev Nancy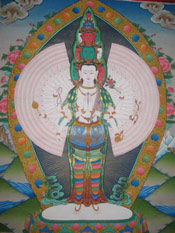 One of The Basic Beliefs of Buddhism is in the Power of
The Buddha of Compassion, Avolakiteshvara

Dear reader, I trust you enjoyed this brief article. If you are interested in pursuing affordable higher education, we are delighted to offer online courses in Buddhist Studies at Metropolitan Interspiritual University. As the Dean of The School of Interspiritual Studies, I'm teaching a fresh introductory course on Tibetan Buddhism. This course curriculum has emphasis on the Nyingma tradition, which I've studied and practiced for twenty-plus years with Dzogchen Master, His Eminence Khenchen Palden Sherab Rinpoche. Our various cutting-edge programs lead to MA and PhD in Religious Studies. Apply today and begin your heroic journey - May all benefit from this auspicious activity! ~ Metro Interspiritual Univ


Tibetan Buddhism Beliefs - Padmasambhava

HOME from 360 Gods of Buddhism