Inspiring Pictures of India
A Spiritual Pilgrimage
Journey to India… Land of Buddha

Probably one of the nicest landscape pictures of India that I captured one morning is this one: "Dawn on the Ganges River at Varanasi"

What a blessing to be part of this astonishing journey to India, a Buddhist Pilgrimage with beloved mentor, His Eminence, The Venerable Khenchen Palden Sherab Rinpoche (center photo with HH Dalai Lama) and also his younger brother, Ven. Khenpo Tsewang Dongyal Rinpoche. I've had tremendous great fortune and astounding grace to sit at the feet of these masters for the past twenty-plus years studying and practicing Dzogchen of Tibetan Vajrayana Buddhism in the Nyingma lineage. His Eminence offered (now sadly passed from this plane) the precious jewels of The Buddha in his native Tibetan language, always eloquently translated by his younger brother.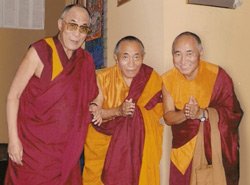 His Holiness The Dalai Lama visits with Khenchen Palden Sherab Rinpoche (center) and Khenpo Tsewang in Puerto Rico at one of their many beautiful Padmasambhava Buddhist Centers that have been established all around the world. www.padmasambhava.org



A Journey to India such as this is quite transformative. It's almost indescribable. Mere words don't do it justice so I share images, these inspiring pictures of India with you. It is said that a picture is worth a thousand words. Yes, I agree.

There's more about this trip in my first book, Doing a 360: Turning Your Life Around to Follow Soul's Purpose, published 2012 now in paperback and eBook. More info at this link - free "look inside"
About this author, Reverend Dr. Ash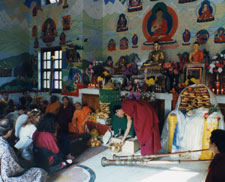 The official opening ceremonies (early '90s) of Venerable Rinpoches' Monastery in Sarnath, called Padma Samye Chokhor Ling where we stayed for a few days before traveling by bus through India. That's me bottom left in the white shirt. It was a poignant moment as Khenchen remembered his homeland of Tibet.



More Inspiring Pictures of India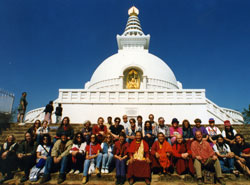 Hmm… not sure who snapped this one. Possibly my talented professional photographer Dharma sister, Debi H.

This large building is called a Stupa, which represents the Five Wisdoms. That's our Sangha (which means a community, a family of practitioners).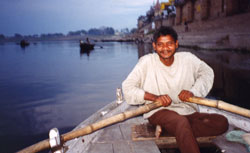 Thoughtful Dharma brother David arranged for us to take a boat ride of the River Ganges at dawn.

What an amazing experience to see a man brushing his teeth in the ancient sacred water with a frayed green bamboo stick...and then turn to see a giant bloated cow float by with a bird picking at the carrion. I'll never forget that...

A Journey to India is quite a trip!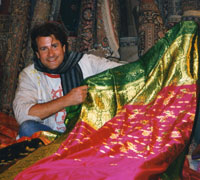 Joyful friend David is all smiles at a Varanasi brocade shop where they make the most beautiful colorful fabrics in the entire world.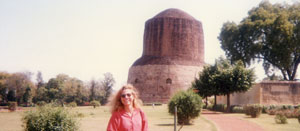 Lord Buddha Shakyamuni came to this world about 2,635 years ago. At the age of thirty-five he reached enlightenment. Seven weeks later he "Turned the Wheel of Dharma" for the first time at Deer Park in Sarnath teaching the middle way to a few yogis. This park is very near to the monastery built by Khenchen Palden Sherab Rinpoche.

Pictured here is the great sacred Stupa that marks this auspicious place, known as the birthplace of Buddhism. Here I'm in the park feeling the presence of all The Buddhas of The Three Times. (You may read more about that in my book, Doing a 360.) There's more of this heroic journey…
CONTINUE HERE to NEXT PAGE Journey to India Bodhgaya, Shravasti, Rajagriha

HOME from Journey to India - Meditation Pictures of India