Article on Stress Management
Your 360 Resource
Enjoy this article on stress management I wrote based on a weekly workshop/class taught for 15 years called, Creative Wellness. It's part of a general series of articles on stress management shared with you on this 360 Healing Meditation Methods web-site.
Thank you for visiting today. Browse around the 360 sacred circle for transformation. Write to me (click CONTACT left) if you feel inspired to do so or send me a prayer request. Best with Blessings, Rev Dr Nancy Ash, DD, PhD


Free prayer request from articles on stress management

Author of this article on stress management


Article on Stress Management - Stress Reduction
©Copyright, Reprinted from, Happenings, Sept, 1992

'Mind Over Muscle' Monthly Column: Stress Reduction Techniques
by Nancy Ash

Last month I discussed with you the topic of visualization to improve the quality of your health. As a follow up, I want to share with you a stress management tool that really works.

Buy yourself small white removable labels (available at any office supply store for a few dollars). They can be any size, but of course the smaller ones can be strategically placed much more easily and inconspicuously.

Sit down with a pen and paper, close your eyes, and allow words to come to your mind that are positive reinforcers for vibrant good health. For example, if you want to reduce stress in your life, write down words such as: relax, calm, breathe, peace, etc.

Now comes the fun part of this exercise.

You are going to write down a word on each little sticker.
Take the sticker and put it in a place so that you will see it often. For example, in your wallet, on your telephone, the bathroom mirror, eyeglass case, purse, refrigerator, just to name a few. If you drive a car, you can place one on the dashboard that says, "I am focused," or "I am alert," or "Breathe."

Basically you are using these little messages to change your behavior.
One woman in my Creative Wellness Class wanted to drink more water but couldn't remember to do so. Using this method was very successful for her. Within two weeks she was up to four glasses a day. Generally, you may use this method for a month or two, and really begin to see the results — a better you!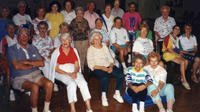 This stress reduction exercise does work.
I had many of the same students in these classes for years (see photo), so I was able to see real results over time as case studies. Sometimes the most simple things in life are the most effective.
What you see reflected back to you is what you become.

I have more for you to read at this site. If not today, check back again soon since I'm constantly uploading articles on stress management.
You're invited to journey around this sacred circle here at 360. Remember, this is YOUR circle, your life. I'm not suggesting that you re-invent the wheel. I'm asking you to think outside the box... and enter your own sacred spin zone.
That is "Doing a 360"
360 Articles on Stress Management - 3 more

Spiritual Stress Management Counseling - What is it?

Additional Articles on Stress Management - 8 more!

HOME from this article on stress management